FREE PARKING – *valid while customers enjoy their shopping & dining experience within our 1000 ANN precinct.
Vlushe Cosmetics and Blow Dry Lounge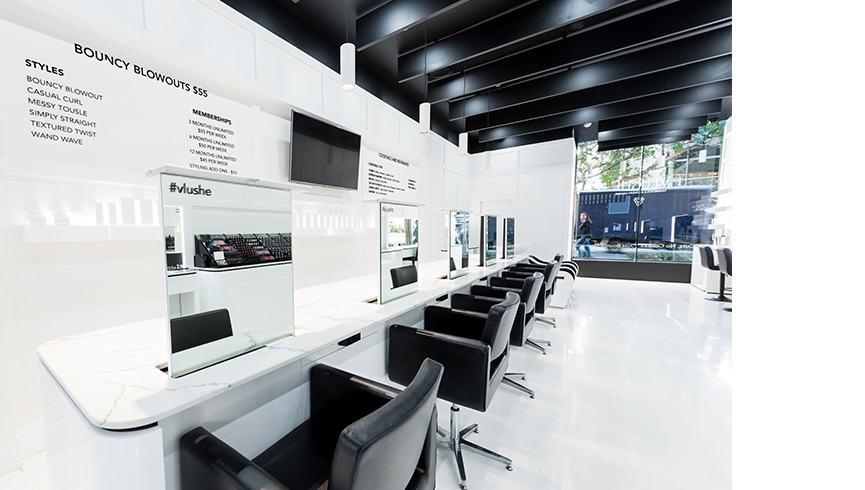 About the store
Vlushe 1000 Ann is a luxurious new cosmetics and blowdry lounge where customers can get their make-up and hair styled in one convenient and indulgent location.

This stunning lounge is unlike anything else in Brisbane, providing a 'one-stop' make-up and hair-styling service in an upbeat, sleek and social setting.

Vlushe 1000 Ann is all about providing an experience that is different, fun and exciting. All customers receive a complimentary glass of champagne on arrival and can sit back, relax and watch movies as they get their hair and make-up done.

Customers can also book in advance online so the Vlushe 1000 Ann team can immediately tend to their needs on arrival. The lounge is open early and late for the convenience of busy women and also provides a great group social outing, perfect for the start of a hen's night or other special nights out.

Vlushe 1000 Ann is the first flagship concept store for the local Vlushe brand. Co-owners and founders Tiarny Strachan and Jack Allwood opened the doors after the positive response to their products online and at the Brisbane Beauty Expo.

Vlushe 1000 Ann customers can choose from a wide range of cosmetics applications, blow-dry styling and custom up styling. The lounge uses its own Vlushe Cosmetics makeup line, with all products paraben free, allergy tested, non-comedogenic, hypoallergenic, fragrance-free, and cruelty-free. Make-up master classes are also available.

Hairstyling customers are treated to the luxury Mr Smith hair products, crafted from Australian botanicals and essential oils, with no sulphates or parabens, free of animal testing and PETA-Certified.
Opening Hours:
Monday — Saturday, 7am til 7pm
Sunday, by appointment only